It all began in in the summer of 2007, we had always enjoyed the treat of visiting a Tea Rooms and indulging, however we found that all too often we left disappointed, either the service was poor or the food was. Having tired of this poor service & value for money that was being delivered by high street Tea & Coffee shops up and down the country, we decided to begin a revolution to change this and so began Shelly's Tea Rooms.
Before creating Shelly's, Sean had enjoyed a successful career in the retail motor industry and before taking time off for the birth of their daughter, Shelly had also enjoyed a career in retail after obtaining her diploma in catering, the experience gained from running large businesses in a demanding sector, that heavily focuses on customer delight, was the best possible experience for our second career and our new venture of creating Shelly's Tea Rooms. From the start it was to be all about the customer, from the quality of the cutlery to the coffee served, from ensuring our teapots do not drip when poured, to the quality of the napkins, everything was with you, the customer in mind.
Our ethos is simple, "to deliver the best service, food and value", we are totally committed to this promise as you will see for yourself during your visit to our Tea Rooms.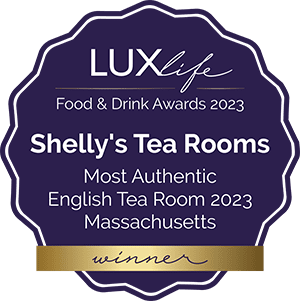 After owning and running our two award-winning Tea Rooms in England, one in a breathtaking 15th-century building, built a hundred years before the first pilgrim set foot in the US, near Canterbury and the other in the exquisite beauty of St Margaret's Bay near Dover, for over 10 years; having fallen in love with the United States more than 25 years ago after many vacations here, we decided it was time to bring our English Tea Rooms revolution to America.
We chose Plymouth for the same reasons, it is an iconic town, the birthplace of the USA. We are extremely excited to be here and to be able to introduce to you Massachusett's first authentic English Tea Rooms run by the English.
Sean, Shelly, our children Charlotte & Thomas as well as Buddy our 3-year-old golden retriever invite you to join us on the next leg of our journey!
We look forward to welcoming you to our Tea Rooms soon!